DIGITAL ST
ABOUT US
Digital Solutions & Technology (DIGITAL ST) provides full scale Digital Consultancy and Development services worldwide. We develop and invest in you and your business from the very first contact because we truly believe that each and every client is unique and brings in completely new business requirements that makes us all grow and learn during the course of the project.
Today, the success of your company depends more and more on your digital strategy, as a part of your Business plan. Digital world is growing at the scale no one can comprehend, yet it definitely shapes the world we know today.
As Strategists, we can help you devise your strategy and align it with your Business plan in order to maximize your entire capacity and achieve company objectives.
As Consultants, we can advise you or your marketing agency what service, projects or digital campaign you need to develop and execute such that it maximizes your overall potential on the market.
As Digital developers, we provide the development services required to action your strategy. We advise you on what technology and solutions best suit your plans.
All in one, we are truly committed to your success. We simply can't take less than that.
Give us a call and discover all opportunities that can help you or your business get more successful.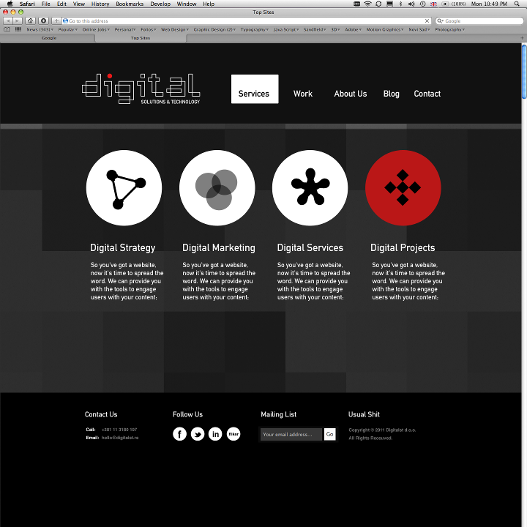 DIGITAL Strategy
If you fail to plan, you plan to fail. The digital strategy is foundation for your business growth and development. It becomes part of your Business strategy: Financial feasibility, Consulting, Market Research&Analysis, Strategic planning.
DIGITAL MARKETING
Find the right and efficient tools to promote your brands, products and services thru: Addressable advertising, Social marketing, Transactional marketing and Contextual marketing.
DIGITAL sERVIces
Tailor-made solutions to your needs, derived from your Digital strategy that will be execute your Digital marketing plan and meet your business goals: e-commerce, loyalty, mobile services, CRM solutions, BI, Social networking apps, Integrated solutions.
WE have experience & proven
success
PARTNERS:
MARKETING & COMMUNICATION AGENCIES:
• Ogilvy Full house
• DDB
• LUNA TBWA
• Executive group
• MRM(McCann)
• Communis
• MMS - Leo Burnett
• I.C.P.S.
• Lowe & Friends
• SOL9
• EURO RSCG – Buzz
• Profile
DIRECT CLIENTS:
• Phillip Morris , BAT
• Ringier Axel Springer
• National Lottery
• N sport (sport and fashion retail)
• Unicef
• Confluence, property management (Ušće Shopping mall, Immo shopping centre)
• Telekom Srbija
• Serbian post
• Ministry of economy
• Tourist organization of Serbia
• Marbo (PepsiCo)
• Got talent (Adrenalin, Serbia)
• Serbian public broadcast, TV Pink, TV Studio B
• Pakom (IT)
• EXIT music festival
• Belgrade arena; Sava center (halls and arenas)
• Tuck (film distributor)
• Limundo (on-line shop)
• Ticketline (Ticket service)
• Horisen (Swiss)
• ABC Serbia (Audit Bureau of Circulations)
• FinMetrix inc. (USA)
OUR unique
sERVICES
1. D-Brain platform
1.1. Internally developed platform and tool for digital marketing support – production (app's and services), measuring and integration
1.2. OneStopShop, CMS, User management, API and CRM tool.
2. DIGITAL ST - FinMetrix software
2.1. A complete and integrated SW solution that is fully developed by Digital ST, on licensed (COGNOS) or Open Source platforms.
2.2. Special software solution, with a specific purpose to support business consulting.
3. Apps and Services – State-of-Art solutions and technologies for marketing solutions and services, with full integration: Android, web, iOS, SMS, e-commerce, FB, User segmentation, TW, Loyalty solution...
4. Partner support and development- Innovative use of digital solutions and ideas in order to achieve marketing and business objectives: customer engagement, online sale, KPI correlation between DM and traditional marketing as well as tools for business decision making(BSC), surveys and market analysis, customer behavior, Cross/Up-sale...
5. Consulting – Devising Digital strategy for client, defining marketing budgets and linking processes and data to other marketing activities in order to achieve business objectives.
previous
Projects
SERBIAN National lottery, HAPPY PEK...
looking for a
solution?
Contact us:
DIGITAL SOLUTIONS & TECHNOLOGY
E-mail:office@digitalst.rs